December 21, 2020
Kaléo Expands Executive Team with New Appointments
Accent Lines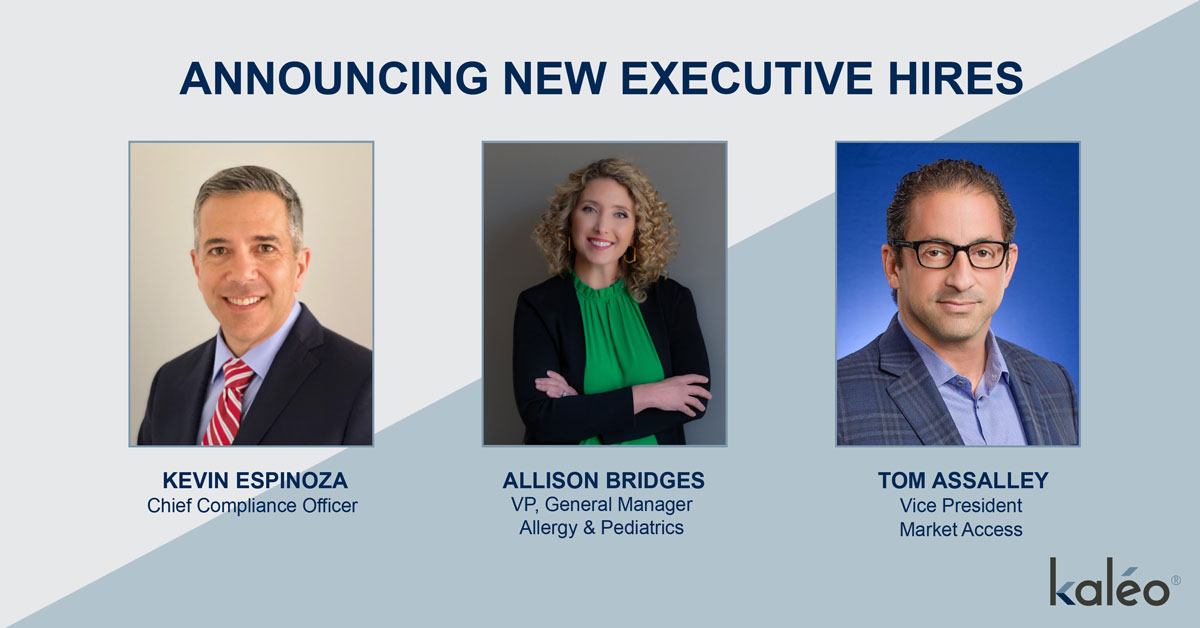 Richmond, Virginia (Dec. 21, 2020) – Kaléo announced five new appointments at the C-suite and management levels. The new executives bring fresh insight and experiences to promote business and growth strategies in 2021 and beyond.
"We are excited to welcome this new team of leaders to Kaléo," said Spencer Williamson, president and CEO of Kaléo. "Each are highly accomplished in their field and bring unique skills to their roles. We look forward to partnering with them on our mission to provide life-transforming products that empower patients and their families to live fuller, bolder lives."
Kevin Espinoza has been named chief compliance officer, responsible for overseeing key operations at Kaléo. Mr. Espinoza joined Kaléo from Boston Scientific, where he served as the senior vice president of corporate compliance and a privacy officer. Mr. Espinoza has also served as a global R&D compliance officer at Forest Laboratories, vice president and practice leader at Compliance Implementation Services, senior director and North America deputy compliance officer at GlaxoSmithKline, and various roles in sales, corporate affairs, and marketing at Eli Lilly. 
Allison Bridges has been named vice president and general manager of allergy and pediatrics, responsible for directing channel strategy and execution. She previously served as the vice president of access and trade at Kaléo. Ms. Bridges has founded and owned several businesses, including a regional clinical laboratory as well as an anatomic pathology laboratory. Additionally, Ms. Bridges has held a variety of roles in finance, including positions at Donaldson, Lufkin, and Jenrette, Harris Williams & Co and Merrill Lynch.
Tom Assalley has been named vice president of market access, responsible for developing Kaléo's market access strategy. Mr. Assalley previously served as a vice president at Eli Lilly, overseeing the National Accounts business unit. Mr. Assalley also worked with public payers, long term care, oncology and sales for managed markets business units for managed care, public payer, long term care and oncology spanning nearly three decades at Eli Lilly.
T.J. Childress has been named senior director of access and trade, responsible for the strategy and execution of product delivery across Kaléo's brands. Mr. Childress previously served as the director of finance at Kaléo. Mr. Childress has also served as the head of strategic finance at CarMax, manager of strategy and operations at Deloitte Consulting, senior financial analyst at McGuireWoods LLP, and senior financial analyst at Circuit City.
Meera Mehta has been named director of sales training, responsible for training sales representatives and oversight of the inside commercial sales operations for Kaléo. Ms. Mehta previously served as director of sales training at Novartis. Ms. Mehta has also served as a specialty sales representative and sales training manager at Endo Pharmaceuticals, scientific knowledge manager, oncology training at GlaxoSmithKline Pharmaceuticals and associate director, strategic market access at Novartis.
About Kaléo (kuh-LAY-oh)
Kaléo is a pharmaceutical company dedicated to building innovative solutions that can help empower patients with certain serious and life-threatening medical conditions. We believe patients and caregivers are the experts on how medical conditions impact their lives, and so we include them as an integral part of our development process and consider their needs foremost. Kaléo products combine established drugs with innovative delivery platforms. Kaléo is a privately-held company headquartered in Richmond, Virginia in the United States. For more information, visit www.kaleo.com.