April 4, 2023
Kaléo Welcomes Vice President, Marketing and Analytics Executive
Accent Lines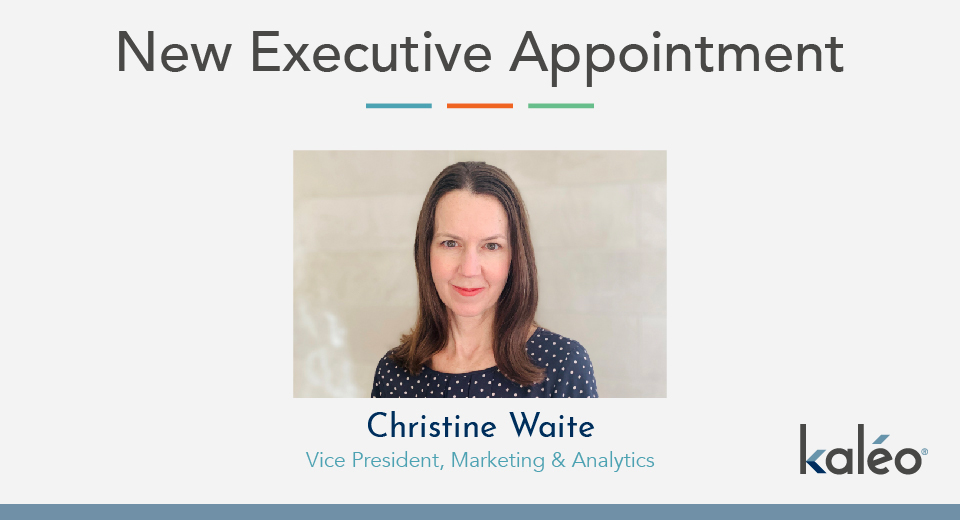 Richmond, Virginia (April 3, 2023) – Kaléo, a fully integrated pharmaceutical company creating innovative healthcare solutions to protect and empower patients, today announced the appointment of its vice president of marketing and analytics.
Christine Waite has been named vice president, marketing and analytics, a newly created position at the Company. In this role, she will be responsible for providing end-to-end brand oversight to create a fully aligned and focused approach in driving growth for Kaléo's marketed products.
A hands-on pharmaceutical leader, Christine has more than 20 years' experience building data-driven marketing strategies for brands across multiple therapeutic areas. She most recently served as vice president, marketing and analytics, at Covis Pharma, and has held marketing leadership positions at AMAG Pharmaceuticals, Sanofi and Genzyme.
Ms. Waite earned an undergraduate degree from Westfield State University and a Master of Business Administration from Boston College.
"Christine is a seasoned marketing executive with extensive experience in developing marketing programs for both launch and established brands," said Kaléo President and CEO Ronald Gunn. "Under her leadership, we'll shift towards a more consumer-focused approach to better understand the needs of our patients, establish stronger connections with them, and ensure our products are a valuable part of their long-term support
system."
###
About Kaléo
Kaléo is a fully integrated pharmaceutical company dedicated to creating innovative healthcare solutions that can help protect and empower patients to live fuller, bolder lives. Our commitment to innovation healthcare has set the standard for drug-device combination product development. The company's advanced manufacturing techniques and forward-thinking Human Factors Engineering approach allow us to effectively address the unmet needs of patients and the pharmaceutical industry. Kaléo is a privately held company headquartered in Richmond VA. Visit www.kaleo.com to learn more about our innovative healthcare solutions.
CC-US–0133