September 13, 2022
Rapid Opioid Countermeasure System Product Team Wins Award for Outstanding Program Management Team at 2022 Military Health System Research Symposium
Accent Lines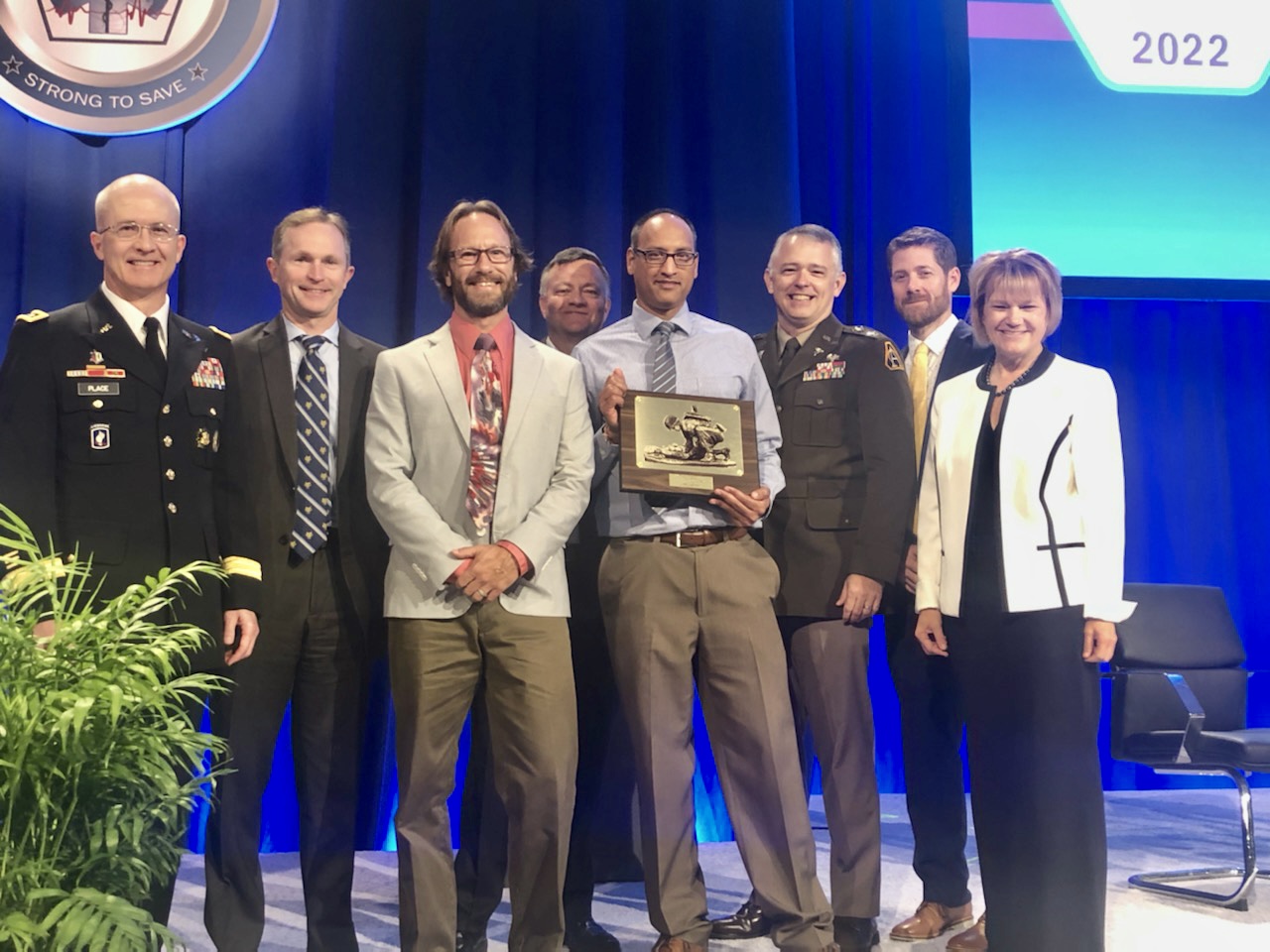 Richmond, VA (September 12, 2022) – Kaléo, part of the Joint Project Manager for Chemical, Biological, Radiological, and Nuclear Medical (JPM CBRN Medical) Rapid Opioid Countermeasure System (ROCS) product team, was selected to receive the 2022 Military Health System Research Symposium Award for Outstanding Product Management (Team).
This award recognizes outstanding medical product program management, highlighting team accomplishments that further mature medical research and development or commercial efforts. The ROCS product team received the award for closing the capability gap for military personnel and chemical incident first responders who may encounter highly potent opioids. This was accomplished when the U.S. Food and Drug Administration (FDA) approved a 10 mg naloxone auto-injector (NAI), manufactured by Kaléo.
"Kaleo was selected by the Department of Defense to design and manufacture the Rapid Opioid Countermeasure System for military personnel and chemical incident responders. We are pleased to have delivered the product under budget, and five months ahead of schedule, despite challenges presented by the COVID-19 global pandemic," said Kaléo President and CEO Ronald Gunn.
More detail on the award can be found at jpeocbrnd.osd.mil
For additional information on the Naloxone Auto-injector 10 mg, please visit naloxoneautoinjector.com
###
About Kaléo
Kaléo is a fully integrated pharmaceutical company dedicated to inventing, manufacturing, and commercializing life-transforming products for certain serious and life-threatening medical conditions. Kaléo's innovative auto-injection technologies are protected by an extensive intellectual property portfolio of more than 200 issued patents as well as being the first to meet the U.S. Food and Drug Administration (FDA) draft guidance standard for 99.999% device reliability. Kaléo is headquartered in Richmond, Virginia in the United States. For more information, visit kaleo.com.
Naloxone Auto-Injector Indication
Naloxone Auto-Injector 10 mg is an opioid antagonist indicated for use by military personnel and chemical incident responders for:
• The emergency treatment of patients 12 years of age and older where use of high-potency opioids such as fentanyl analogues as a chemical weapon is suspected.
• Temporary prophylaxis of respiratory and/or central nervous system depression in military personnel and chemical incident responders entering an area contaminated with high-potency opioids such as fentanyl analogues.
Important Safety Information
Contraindications – Naloxone Auto-Injector (NAI) 10 mg is contraindicated in individuals with hypersensitivity to naloxone hydrochloride or to any of the other ingredients in NAI 10 mg.
Warnings – Use in patients who are opioid dependent may cause abrupt opioid withdrawal. Use of a product that delivers a dose lower than 10 mg of naloxone HCl may be preferable in treatment of a patient with known opioid dependence.
Precautions – Due to the duration of action of naloxone HCl relative to the opioid, keep the patient under continued surveillance and administer additional naloxone HCl, as necessary, while awaiting emergency medical assistance.
Adverse Events – The following adverse reactions were observed in more than one subject in clinical studies evaluating NAI: dizziness, feeling hot, headache, and injection site erythema.
Please see the full Prescribing Information.
CC-US-NAL10-0007